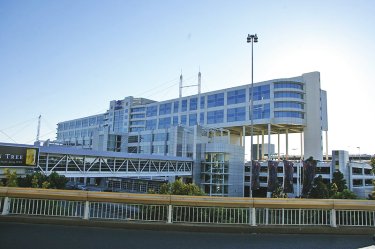 Tullamarine is situated right next to the Melbourne Airport and only 22 kms from the Melbourne CBD. The Melbourne Airport is the busiest airport serving Melbourne with most of the passenger flights arriving and departing from it.

The Melbourne Airport has a wide variety of duty free shops and food outlets, is curfew-free and operates 24 hours a day, although there are very few plane flights between 1 am and 5 am, except for freight aircraft.

Apart from the numerous taxis available the Skybus shuttle service is the main transport link between the Melbourne Airport and the Melbourne CBD. It takes approximately 25 minutes to reach the city centre and drops passengers off and picks them up from the Southern Cross Station. From the Southern Cross Station airport passengers can access V/Line regional trains, Melbourne suburban trains and trams or simply walk to the Melbourne CBD, Docklands or Southbank precincts.

The surrounding airport suburb of Tullamarine features a range of hotel accommodation options (all of which have free transfers to and from the Melbourne Airport), numerous restaurants and a variety of commercial and light industry businesses. If you are looking for discount accommodation then consider these Melbourne Airport Hotels.
The Ciloms Airport Lodge provides exceptional discount accommodation rates for both corporate business travellers and leisure guests needing to stay close to the Melbourne Airport. The comfortable and affordable hotel rooms and the complimentary airport shuttle service makes the Ciloms Airport Lodge the perfect Melbourne Airport accommodation for your next business trip or holiday. Situated only only minutes from the Melbourne Airport the Ciloms Airport Hotel has accommodation ranging from motel rooms right through to executive suites. There is even an indoor heated swimming pool, guest internet service, restaurant, bar and extensive conference facilities at the Ciloms Airport Lodge Melbourne.

Price From: A$115


398 Melrose Drive

Tullamarine, 3043
Melbourne, Victoria



Accommodation Rates & Availability


The Parkroyal Melbourne Airport Hotel provides all different types of travellers with discount accommodation that is conveniently positioned right at the Melbourne Airport and is connected to the airport terminal by a covered walkway. With an unrivalled connection to Melbourne Tullamarine Airport The Parkroyal Melbourne Airport Hotel also features a wide range of modern amenities and services such as lounge bar, business centre, conference centre, direct internet access, disabled facilities, faxing facilities, guest laundry, fitness equipment, lift, restaurant, room service, sauna, secretarial services, spa, tour desk, indoor pool, security, 24 hour reception and daily housekeeping. Also the hustle and bustle of Melbourne city centre with its cafes, fashion hot spots and lush parklands is only 20 minutes drive away.


Price Range: from A$212


Melbourne Airport Drive

Melbourne Airport, Victoria



Airport Rates & Availability

The Best Western Alexander Motor Inn & Apartments provides business and holiday travellers with the choice of budget aisport hotel accommodation as well as 1, 2 & 3 bedroom self contained. This affordable accommodation is ideally placed just 15 minutes from the Melbourne CBD & Melbourne Airport, in the heart of the Essendon Shopping Precinct. It also features a wide range of modern amenities and services such as lounge bar, conference centre, direct internet access, faxing facilities, free car parking, guest laundry, restaurant, room service, tour desk and daily housekeeping. The Best Western Alexander Motor provides great value for money in a central Melbourne location that is within easy reach of the Melbourne Airport.


Price Range: from A$


980 Mount Alexander Road

Essendon, Melbourne, VIC



Accommodation Rates & Availability

Situated just minutes from the Melbourne Airport in Tullamarine the Quality Hotel Melbourne Airport offers exceptional value for money accommodation. The Quality Hotel Melbourne Airport has a variety of hotel rooms rangind from single hotel rooms through to larger family suites. This quality Melbourne Airport accommodation also features a free 24 hour courtesy bus that will take guests to and from the Melbourne Airport. Also the Melbourne city centre and all its attractions are an easy 20 minute drive away along the nearby Tullamarine Freeway.

Price Range: from A$140


265 Mickleham Road

Tullamarine, 3043
Melbourne, Victoria



Accommodation Rates & Availability


Located with close proximity to the Melbourne International Airport and an easy 20 minute drive to the Melbourne city centre the Airport Motel & Convention Centre provides a range of accommodation options for the busy traveller including budget motel rooms, serviced apartments and even honeymoon suites. The Airport Motel & Convention Centre is the ideal hotel accommodation for the corporate traveller with executive suites available and extensive start-of-the-art conference facilities onsite. This discount Melbourne Airport accommodation also includes a 24 hour courtesy bus that will take you to and from Melbourne Airport when your flight is ready to leave or has just landed.

Price Range: from A$99


33 Ardlie Street

Attwood, 3049
Melbourne, Victoria



Accommodation Rates & Availability


Holiday Inn Melbourne Airport Hotel offers luxury Queen, Twin and 1 Bedroom King Suites ideally located within a short 400 metre walk of the Domestic and International terminals of the Melbourne Airport. Newly refurbished and perfectly located to cater for whatever your travel needs might be, Holiday Inn Melbourne Airport is convenient for a stopover or for catching an early morning flight. The Holiday Inn Melbourne Airport in Melbourne Airport has numerous guests facilities and services including lounge bar, business centre, direct internet access, guest laundry, gym & fitness equipment, lift, restaurant, outdoor swimming pool, tour desk, airport shuttle, security, 24 hour reception and daily housekeeping. Further business facilties include photocopying, courier service, e-mail, facsimile, PCs available and printing facilties. The staff at Holiday Inn Melbourne Airport realise you need to be relaxed to prepare for your flight ahead, and will do everything possible to ensure you can be yourself during your stay.


Price Range: from A$170


10-14 Centre Road

Tullamarine, Melbourne Airport



Melbourne Airport Rates & Availability

Need Help? Submit an Accommodation Request